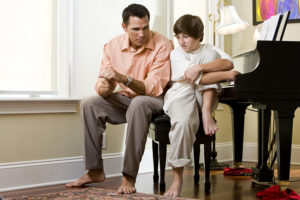 Is your child self-critical or hard on themselves?
Do they feel insecure or as though they do not compare to other kids?
Do they doubt their ability to succeed or do well at things?
If so, your child may be suffering from low self-esteem. Self-esteem, or feeling good about ourselves, is important as it encourages children to try new challenges, cope with mistakes, and solve problems. A child with a positive sense of self will feel loved, competent, and as though they can succeed at things they put their mind to.
Some things you can do to foster your child's self-esteem include:
Recognising your child's successes and achievements, regardless of how small
Genuinely praising your child's effort, rather than the result
Helping your child learn new things and achieve goals that are within reach, so that they get a sense of effectiveness and fulfilment
When they make mistakes or is disappointed, communicate that failing is part of learning and that no one is perfect
Refrain from comparing your child to other children, including siblings, as each child has their own strengths and weakness
When you fail or make mistakes, model kind self-talk. Children learn by observing their parents
Tell your child that you love them unconditionally and that they are valued. Spend one-on-one time with your child and listen attentively to build your relationship
If you are concerned that your child is suffering from low self-esteem, seeking professional help is important to set them up for success later in life.
Our skilled Psychologists are trained in providing evidence-based treatment and are waiting to help your child unlock their true potential. Contact Life & Mind Psychology on (02) 8559 0704 to discuss your child's situation today.
Make an enquiry or book an appointment